166. Self-powered Overspeed Wake-up Alarm System based on Triboelectric Nanogenerators for Intelligent Transportation. Jie Cao, Yuan Lin, Xianpeng Fu, Zheng Wang, Guoxu Liu, Zhi Zhang, Yuhan Qin, Han Zhou, Sicheng Dong, Guanggui Cheng*, Chi Zhang*, Jianning Ding*. Nano Energy, 2023, 107, 108150.

165. A Flexible Tribotronic Artificial Synapse with Bioinspired Neurosensory Behavior. Jianhua Zeng#, Junqing Zhao#, Tianzhao Bu, Guoxu Liu, Youchao Qi, Han Zhou, Sicheng Dong, Chi Zhang*.Nano-Micro Letters, 2023, 15, 18.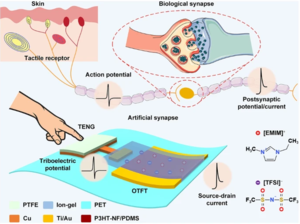 164.Ultra-robust and high performance rotational triboelectric nanogenerator by bearing charge pumping. Xianpeng Fu, Yuhan Qin, Zhi Zhang, Guoxu Liu, Jie Cao, Beibei Fan, Zhaozheng Wang, Zheng Wang, Chi Zhang*. Energy & Environmental Materials, 2023,https://doi.org/10.1002/eem2.12566.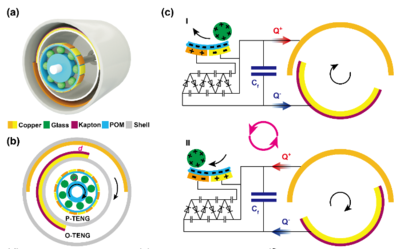 163.Organic tribovoltaic nanogenerator with electrically and mechanically tuned flexible semiconductor textile. Guoxu Liu, Ruifei Luan, Youchao Qi, Likun Gong, Jie Cao, Zhihao Wang, Feng Liu, Jianhua Zeng, Xinlong Huang, Yuhan Qin, Sicheng Dong, Yuan Feng, Long-Biao Huang*, Chi Zhang*. Nano Energy, 2022, 106, 108075.